Quality
Our goal is to build the highest quality armored vehicles available. We don't take chances when it comes to our protection levels. Through a rigorous regimen of third-party testing and certification, our materials and systems undergo stringent military-level testing to ensure that our product, and your protection, is second-to-none.
Quality Assurace Department
The purpose of Ultra Armoring & Defense's Quality Assurance Department is to support continuous quality improvement of our products and procedures. The quality control processes we have in place follow the guidelines of ANSI/ISO/ASQ 9001-2008 Standards in conjunction with a comprehensive set of Management System Procedures and work instructions.
Traceability
All materials are certified, batch-tested and completely traceable. To verify and ensure the integrity of our product, we can trace any part used in armoring any vehicle back to the heat lot and plate number.
Every assembly is given a serial number allowing every action taken on each assembly to be tracked starting with material ot, what was done and when, the individual that performed the work, at what work station, right up to when it was shipped. This give us a total computerized record of each product we made, what were the quality assurance steps taken, when and by whom.
Testing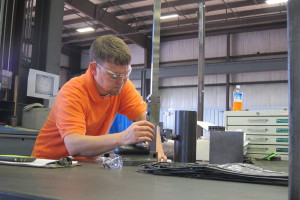 Ultra Armoring & Defense believes in order to build the best product for your safety, we must push our vehicles to the limit to find and eliminate weaknesses. We build prototypes prior to full-scale live production, and rigorously test these to fail. Upon component failure, massive re-engineering and re-manufacturing follow careful evaluation and inspection. We continue this process until the product has reached optimum performance.
Ballistic Testing
We shoot our product using outdoor firing ranges, monthly-calibrated chronographs and hand-loaded munitions. Every ballistic test simulates and duplicates authentic test parameters and procedures established by the National Institute of Justice (NIJ) and the Central European Normalization Standards (CEN)
Off-Road Testing
We do more than drive our vehicles on a finely paved surface. Knowing real world conditions can vary, especially for our international clients, we actively test our product on our on-premises off-road track. This allows us to safely replicate land geometry in real-world situations and verify that our purpose-built suspension and braking components can stand the rigors of all situations.
Blast Testing
Our armoring materials and systems are field proven and are designed to offer unmatched blast protection.